Real estate and property management software is a booming industry with dozens of options for multifamily and single-family property management companies. Today we're going through the best software for single-family property managers, and tips from two experts on how to leverage those software best.
Our two experts, Kelli Segretto and Rhianna Campbell, have been through more than their share of tech rollouts. They've seen what works and what doesn't, and they're here to share with you what a good process for building a tech stack actually looks like.
For this article, they walked us through some of the best property management software for single-family homes. These apps and platforms can help with everything from:
Rent collection
Work orders
Credit card payments
Online rent payments
Tenant Screening
Lease management
Maintenance management
CRM
Let's jump right in with the top 17 software solutions for single-family property managers.
The first six in our list are software solutions specifically and exclusively designed for property managers.
1. RBP by SecondNature
Second Nature pioneered the property management industry's first-ever fully managed Resident Benefits Package (RBP). The RBP includes critical services that more and more residents are asking for – and are willing to pay for. It's not just a package of services, though. The RBP is a tech platform that helps property managers boost retention by creating a better resident experience and incentivizes better resident behavior with support like resident rewards and credit building for on-time rent payments.
Campbell says that she looks for technology that can support both her team and the resident experience:
"One of the things I want my clients to think about is the property management software is not just for our benefit," Campbell says. "This is not just to make our lives easier and our jobs easier; it's to really be able to reposition our time so that we're focused on value creation."
RBP by Second Nature generates value through:
Attracting and retaining residents
Boosting rental rates through improved resident experience
Giving PMCs a competitive advantage
Driving ancillary revenue opportunities
Incentivizing good resident habits like on-time rent payments, property care, etc.
The RBP supports PMCs by managing services like credit building, air filter delivery, maintenance requests, renter's insurance programs, resident rewards, and more. The RBP by SecondNature provides services that residents and investors love, and that support you and your team.
2. Appfolio
Appfolio is another cloud-based property management software that helps automate tasks and workflows for PMCs. They support real estate and PM professionals in digitizing their business operations, and support every aspect of your workflow with management, training, marketing and leasing, maintenance, accounting, and communications. They're one of the most popular apps for single-family property managers, thanks to the easy-to-use platform, automation, and customizable dashboards and reporting.
3. Buildium
Buildium is another all-in-one property management software for both single-family homes and multifamily apartments. They provide management tools for accounting, leasing, maintenance, a mobile app, and integration services. Their platform includes tenant and owner portals and templates for leases, listings, reports, and more. We like their 14-day free trial that helps you really evaluate if the tech is a fit for your team, and get buy-in. Plus, their analytics are some of the best.
4. PropertyWare
PropertyWare is a rental property management software specifically designed for single-family properties. The software helps manage every aspect of a PMC workflow, from listing, leasing, managing payments, ordering and tracking maintenance, accounting, and more. Tenants and owners have a portal with 24/7 access that you can customize. Customers like that the system can easily scale and makes communication easy, but some of the downsides include that the reports aren't as customizable as other options and glitches sometimes take a while to get fixed.
5. PropertyBoss
PropertyBoss is a platform solution that supports property managers for student, multifamily, and single-family rentals. Manage phone calls, work orders, financial statements, and rent payments all in one place. They aim to help property managers automate and run services without needing to scale up their teams. It's fairly customizable with an excellent QuickBooks integration and other financial packages. It's not as intuitive or easy to learn as some of the other options, but great for robust support.
6. YardiBreeze
YardiBreeze is another cloud-based property management software for small to medium-sized owners or managers. They have solutions for both residential properties and commercial. On the residential side, their app allows you to manage all your properties on one device with tasks and activity calendars and tracking, workflow managmeent, leasing, rent collection, accounting, owner tools, maintenance, and more. It's one of the easiest to use of all the apps on our list, but it does require some workarounds for reports and can be difficult to organize.
7. Rent Manager
Rent Manager is another software built specifically for property managers. It's an operations platform solution that combines all the tools you need to run your property management business. Its features include accounting tools; operations support like communication, a call center, a mobile app, and an owner portal; reporting and automation; maintenance management; marketing and leasing; and software customization. Like PropertyBoss, the platform can be difficult to learn, and some features may go unused if your team doesn't keep up to date with training.
Now let's move into a group of apps that are focused on serving both property managers and landlords.
8. Innago
Innago is a free rental property management software for small to mid-sized landlords and property managers. The software helps with rent collection, leasing, and tenant management all on the cloud. Everything is collected in a straightforward dashboard tracking rent collection, managing late fees, invoice automation, online leasing and document storage, and more. The app has a very high rating among customers and is particularly easy to use with a slick and professional interface for residents.
9. TenantCloud
TenantCloud is a cloud-based property management software connecting property managers, owners, landlords, tenants, and service vendors. Its capabilities include posting listings, collecting rent online, and screening applicants. Overall, the interface is fairly intuitive, even from the back-end accounting and maintenance management. The software puts most of the responsibilities of property management in one place and streamlines workflows and communication. On the downside, some of the features, especially related to payments, aren't very customizable, and the software can be slow.
10. DoorLoop
DoorLoop is a property management system that provides services like a built-in CRM, tenant portal, owner portal, and rent collection. Like other platform solutions, you can handle most of your workflows and tasks within the app and use their tools to build reports, track payments, and communicate with tenants and owners. The UX is intuitive and user-friendly, with excellent integration capabilities. Some functionalities are still being built, but it is overall an excellent solution.
11. Hemlane
Hemlane is a platform solution for landlords and PMs that supports and automates the day-to-day tasks of managing rental properties. It includes a user-friendly tenant portal for online payments, plus tools for lease management, listings, tenant screening, applicant tracking, maintenance and repairs, and more. Their UX and user-friendly design stand out among competitors, but if you need really robust accounting tools or reporting, you may want to go with a different option.
12. Rentec Direct
Rentec Direct is a platform solution with full features for property managers and landlords managing properties. The web-based solution includes general ledger accounting and financial reporting that you can integrate with Quickbooks, and accept online payments from tenants through a tenant portal and app. The platform supports tenant and owner communication, listings, marketing, billing, tenant screening, and more. One unique feature is their US-based customer service team. The app is missing some advanced features that you can find with other solutions, but they are adding more regularly.
13. ManageCasa
ManageCasa is built for landlords, property managers, and community associations. The platform provides full-service owner and tenant portals, lease management, digital documents, accounting and reporting, online payments, and marketing tools. You can build a marketing website, manage listings and leasings, and automate workflows, all with the support of a 24/7 customer service team. Some of the reporting and banking tools are not as robust as other solutions, but the marketing and communication portals are a standout.
And, finally, let's look at a group of apps focused primarily on serving landlords, though some property managers may find the technology useful.
14. Avail
Availa is a landlord software that helps property owners or "DIY landlords" find and screen tenants, sign leases, and collect rent. It's focused on helping landlords be more hands-off and helps manage the onboarding of new tenants, leases, and even maintenance requests or work orders. The platform helps track payments and maintenance costs, too. A few cons are the app is sometimes slow, and the payment portal isn't as easy to use or customizable as some competitors.
15. Stessa
Stessa provides real estate investors with single-family and multi-family rentals an easy platform to track, manage, and communicate. Their tools focus on supporting rental applications, tenant screening, rent collection, banking, and accounting. One standout feature is the Stessa Tax Center, which helps guide landlords/owners through the complexities of filing their taxes. One downside is the single-entry accounting system, which doesn't allow for more robust accounting. But for basic tracking all in one place, it's an excellent tool.
16. Landlord Studio
Landlord Studio also helps DIY landlords with finding, screening, and placing tenants. Their portal includes online rent collection and tax reporting. Plus, they have a feature for responding to maintenance requests, prioritizing tasks, and easily communicating with tenants. It's very easy to use and relatively inexpensive for what it offers. However, their pricing structure can make it tougher to scale up with charging per unit, and some users find the features difficult to customize.
17. RentRedi
RentRedi is a mobile app for landlords to help manage their properties. Landlord features include listing, tenant screening, lease support, rent collection, rental property accounting, and renter's insurance. Their tenant features include a tenant app that supports different forms of rent payment, application tracking, credit building, and more. A few downsides include some glitchiness in the integrations with Zillow and Trulia, and a lack of transparency into all communication sent to tenants.

How to choose the right software for your single-family property management business
Now it's time to turn to our two property management experts for insight on how to pick the right software from the list above.
Meet the Experts: Rhianna Campbell and Kelli Segretto are two property management consultants who combine more than 35 years of property management experience.
Kelli Segretto is the founder of K Segretto Consulting and a 20-year veteran of property management.
Rhianna Campbell is a property management consultant and speaker with Proper Planning LLC, and former CEO with over 15 years of experience in the industry.
Campbell and Segretto walked us through the process of identifying the best software for your property management business.
Define the problem you want to solve with software
"Start with your issues list," says Segretto. "Realize what your biggest need is first and choose technology that matches that need. Talk to your fellow PMs, join these mastermind groups, attend Triple Win LIVE events, network on Facebook, and talk to other people to find out what's working for them."
The biggest mistake PMs make when trying to build a useful tech stack is collecting as many programs as possible and trying to jump directly into a fully functional stack instead of identifying solutions and rolling them out strategically.
Instead, says Campbell: "I talk to every single employee and find out what their biggest challenges are," says Campbell. "And then from there, you can really pull out some of the commonalities that everyone seems to be having."
Below is an example of an issue list template Segretto uses in meetings with her clients.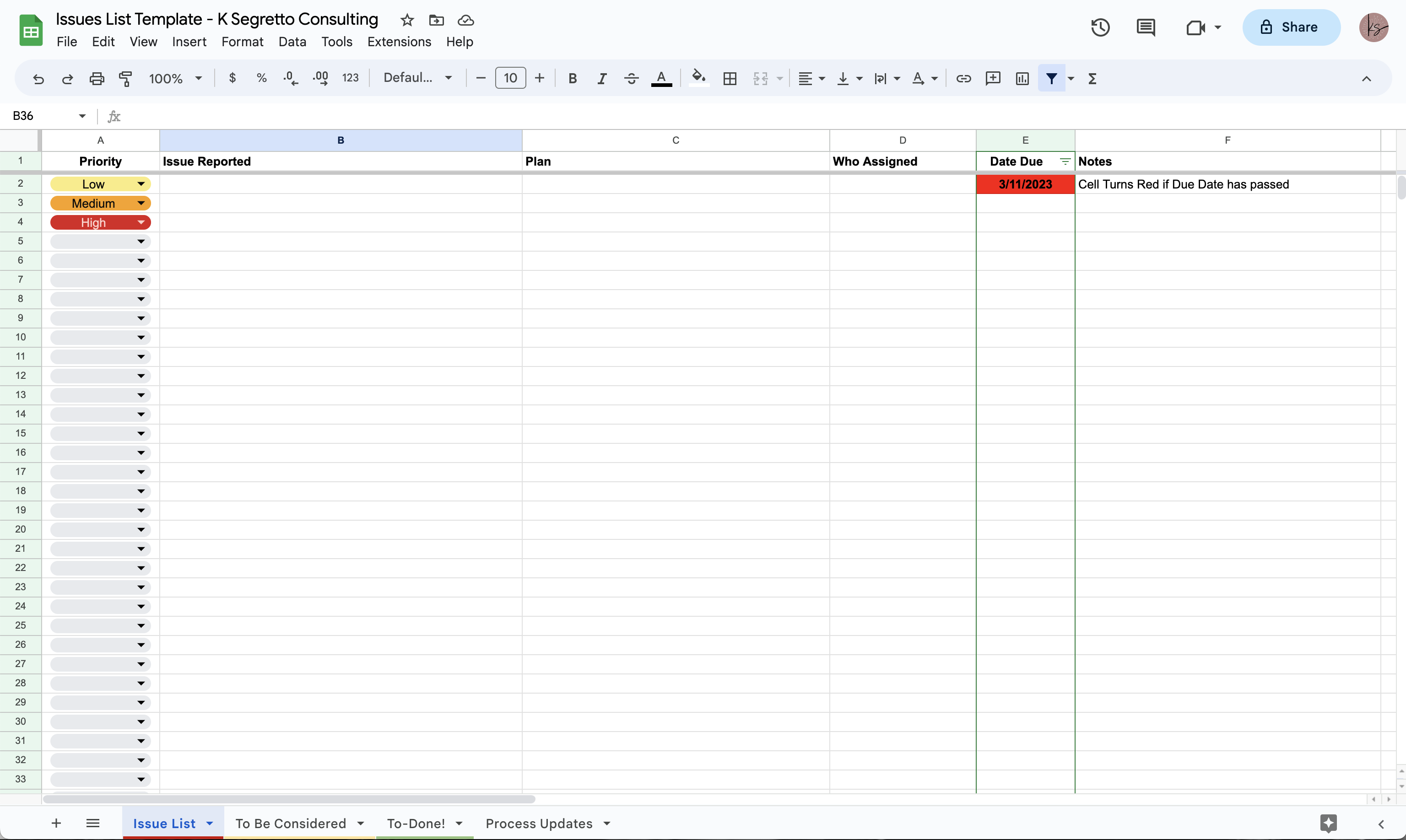 Vet potential PM software vendors
When vetting specific technologies, Segretto suggests asking for a sandbox instead of just a demo.

"Ask for a sandbox to where you can actually play with it, manipulate it, break it, find where those weaknesses are in that software before you commit to it," Segretto says.

She also recommends seeking referrals to users who have used the software successfully and who have tried the software and decided against it. Being able to understand those different perspectives will help you see a complete picture of who the software is for, where it excels, and where it may come up short.
Get buy-in from your team & track performance
"I've seen hundreds of businesses launch technology across the nation and helped them implement. Ones that tend to fail are the ones that are not prepared," says Segretto.
"What I mean by not prepared is they don't have their team's buy-in. They don't even know what they really want the technology for. They just feel like they want it, and they want it right now. They're not willing to dedicate a resource or a person that's going to own it. Without that ownership, tech stacks fail."
Getting buy-in from your team is critical for any implementation. The people who are using the tech need to believe in and understand it. Nothing guarantees failure more than just throwing a new service at someone.
"You're prepping your team, you're talking about it, and you're giving those 'why statements' so that everyone is on board before you launch. All of that needs to happen in your pre-implementation," says Segretto.
You also need to identify who on your team is the point person for the new tech rollout.
According to Segretto: "You have to pick a designated person who's going to be the owner of that technology. Then, as you implement, they're going to be the expert."
Finally, monitor the tech's performance. Campbell says you need to conduct regular reviews of your tech's performance much the same way you would of your team's performance.
"Being able to evaluate whether or not that technology is working is really important," says Campbell. "I've seen a number of times where people buy into the tech and then don't use it. It's important to have points in time where you check to see if you're really utilizing that software that you paid a lot of money for, and not just spending money on it every month."
Final Thoughts
Tech is a good thing. Don't let the length of this article about implementation scare you into thinking it's more complex than it is. As long as you're willing to manage your tech stack and make sure your team knows how to use it, you're going to be in good shape.
You wouldn't bring on a new employee for no reason, so don't add tech for no reason. Tech is a tool, and its power is determined by the person who wields it. If you're purposeful and thorough, you can vastly improve the efficiency of your business with the ever-growing field of PropTech companies in existence.
Learn more about how Second Nature is supporting property managers with leading tech solutions and services that residents pay and stay for.