You might not be surprised to hear that at Second Nature we get asked this a lot: "Exactly what is a resident benefit package?" Or "What is a tenant benefit package?"
In today's marketplace, experience is king (or queen!). Companies like Google, Uber, and Amazon have changed how the next generation of consumers think. For the modern consumer, a convenient experience isn't a luxury anymore; it's an expectation. Accordingly, for enterprising companies, experience becomes a No. 1 strategy.
Likewise, in residential real estate, residents and property investors are getting younger – and they expect a certain level of ease, convenience, and support. Property managers have noticed that beyond reacting quickly to requests, residents want their needs proactively anticipated. And they're willing to pay and stay for it.
Enter: The Resident Benefits Package.
(Ready to get started now? Build your Resident Benefits Package today!)
In this article, we'll explore what a resident benefit package is, how it can generate revenue, and how to implement a resident benefits package (RBP) to give your residents, investors, and business a win.
What is a resident benefits package (RBP)?
A resident benefits package (RBP) is a suite of services provided by the property manager designed to transform the living experience of the resident. Sometimes called a "tenant benefits package," the RBP proactively brings what residents want and need by providing benefits to make their lives easier. It's one of the leading ways that the best property managers are setting themselves apart from the crowd.
At Second Nature, we pioneered the only fully managed resident benefits package. We chose the term "resident" because tenant benefit package sounded too impersonal for the value we're driving.
We developed the RBP in response to PMs who wanted to make their business stand out. Resident benefit packages include an array of services and supports for residents, from filter delivery to credit building to maintenance. Stay tuned for our next suite of services for property managers and investors: the Investor Benefits Package (IBP).
What are the benefits of a resident benefits package?
There are three questions driving the future of value creation in professional property management.
How do we create an experience so good, residents never want to leave?
How do we create an experience so good, investors never want to sell?
How do we create an experience so good, talent wants to be in this business forever?
In the words of Phil Vera, CEO of Paragon PM, "Being just a basic property management company isn't going to get you as far in today's marketplace. So what can you do that goes above and beyond?"
The resident benefits package is the answer to that question. It adds value to the resident by anticipating their needs and providing them with services that make life easier and better. It adds value to the investor by preventing maintenance, vacancy, and delinquency. And, of course, it adds value to the property manager because it differentiates them from the competition. The aim of any good resident benefits package is to create a Triple Win – for residents, for investors, and for you, the property manager.
Here's how an RBP achieves that Triple Win.
Attracting and retaining residents through better experiences
Offering a comprehensive benefits package can make a property more appealing to potential residents. By providing desirable perks such as exclusive discounts, concierge services, or access to credit reporting and other financial benefits, the property management company can attract a larger pool of prospective residents and increase occupancy rates. Retaining residents is also crucial for profitability, as turnover costs can be significant. A benefits package can enhance resident satisfaction and loyalty, reducing turnover and associated expenses.
Higher rental rates for higher value
A well-curated tenant benefit package makes properties more valuable. When residents perceive additional value in the form of amenities, services, or discounts, they are often willing to pay more for their living experience. This allows the property management company to command premium prices for their units, leading to increased revenue and improved profitability.
Differentiation and competitive advantage
In a crowded real estate market, a distinct resident benefits package can set a property apart from competitors. It becomes a unique selling proposition that highlights the property management company's commitment to providing an exceptional living experience. By offering a package that exceeds what other properties in the area provide, the company gains a competitive advantage and attracts residents who value the added benefits.
Ancillary revenue opportunities
A tenant benefits package can create opportunities for generating additional revenue streams tied to specific benefits in the package.
Resident benefit fee: How much does a resident benefit package cost?
Most resident benefits packages cost between $20 and $100, which is often included in the lease and added as a monthly fee for the resident. Prices vary depending on a few key factors, chief among them being the mix of benefits selected by the property manager.
Resident Benefit Package meaning: What does a resident benefits package include?
The resident benefits package is the hot topic in today's property management circles. From conference events like IMN, to NARPM, to Triple Win Leadership XChange and PM Grow, it is hard to find an agenda that doesn't include it. "What is a tenant benefits package?" is a popular search question in the industry, too.
Property managers and service providers have figured out how to turn persistent problems into a suite of proactive solutions that residents will pay for and stay for.
Here's what the Second Nature Resident Benefit Package includes.
Filter Delivery Service
Air filter delivery was the first service Second Nature offered to scattered-site and single-family property managers. It is a cornerstone of the RBP, and over 1M residents have shown that a physical, tangible product is key to their ongoing perception of value. One of the most common causes of HVAC maintenance requests is a failure to change the home's air filters on time.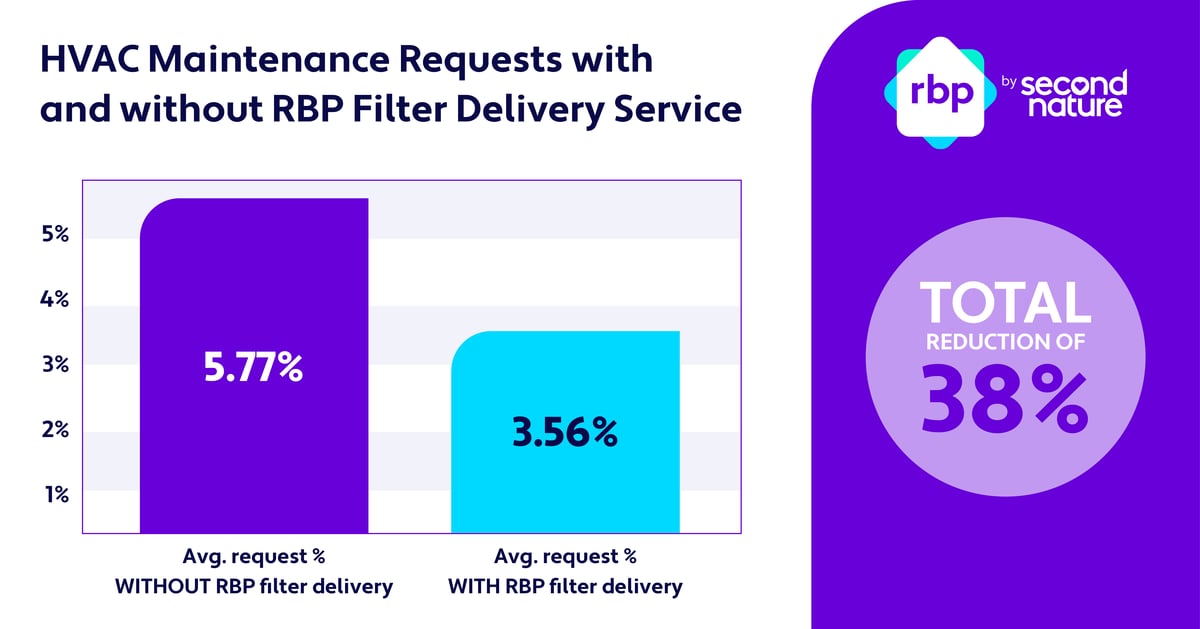 Air filter delivery from Second Nature solves the problem by delivering the correct-sized high-quality HVAC filters directly to each home's front door on a predetermined schedule. The delivery serves as a reminder for the resident to change the filter, and voila – problem solved. The resident breathes clean air, the PM has fewer HVAC tickets to deal with, and the investor has their asset protected. That's a triple win. Our message to residents: "Changing filters is as easy as opening the front door."
Phil Owen, founder of OnSight PROS, says of the delivery system:
"Last year OnSight PROS performed third-party property condition reports at almost 18k single-family rental properties on behalf of property managers. The number of filters that we have to replace or mark as 'needs attention' becomes almost zero when a PM implements the Second Nature program. I cannot imagine how a property manager could justify not protecting their landlords with this program. The difference between those using the program and those who simply hope that their tenants go to the store to purchase and install a new filter is staggering."
Our filter delivery service has proven to reduce total HVAC maintenance requests by 38% and save up to $250 per year per property.
$1 Million Identity Protection
One in four Americans will be victims of identity theft. In 2021, digital theft incidence surpassed home burglarly incidents for the first time – and is rapidly rising.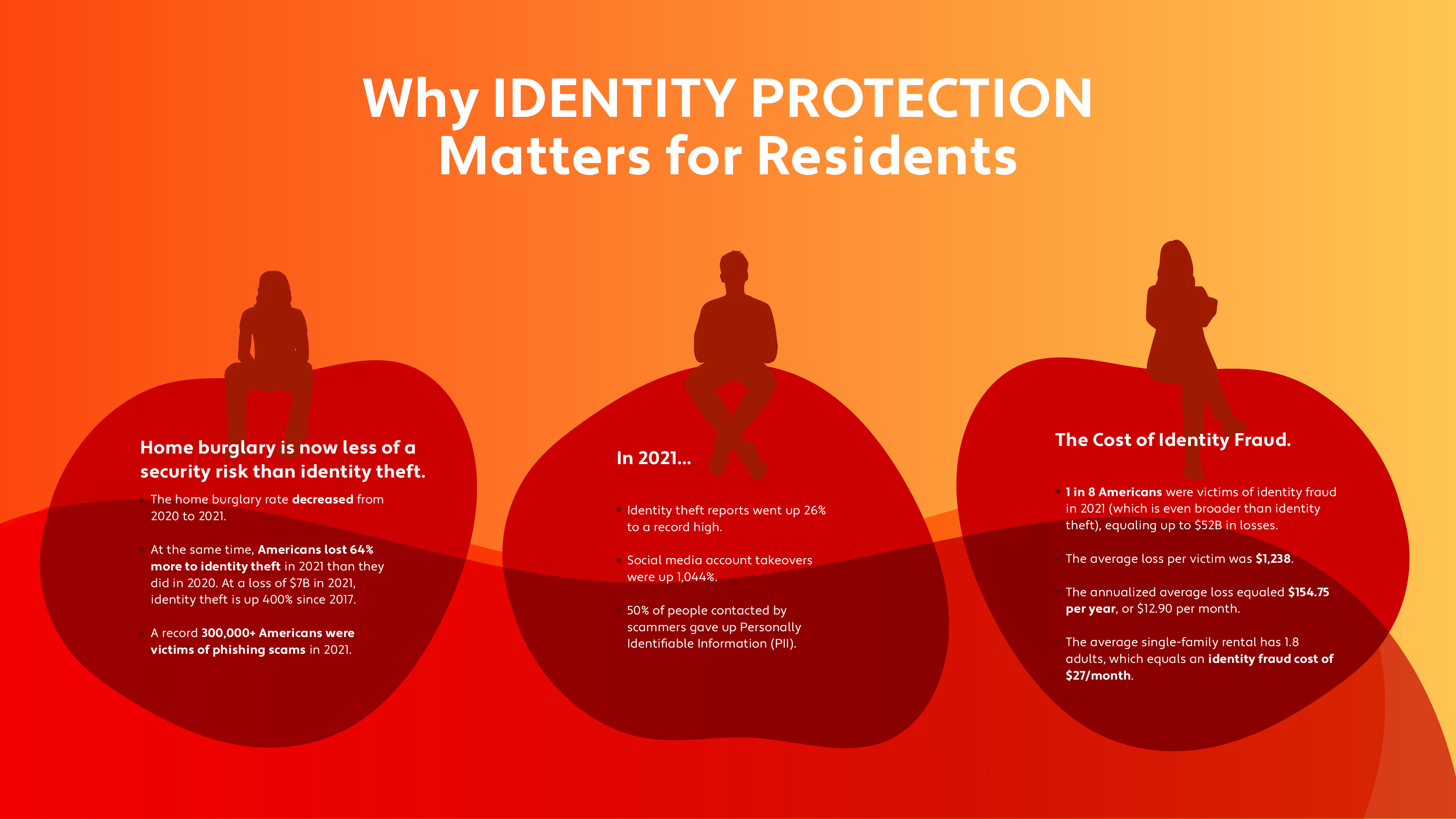 With identity protection as part of your RBP, every adult on the lease automatically gets the peace of mind you can expect from professional-level identity protection. Backed by AIG and monitored through IBM's Watson, Aura Identity Guard works proactively on behalf of the resident to identify fraudulent use of their identity and alert them.
In the event of an actual identity theft case, the resident receives a dedicated case manager and is covered up to $1,000,000 for most resulting damages. This protects the residents ability to pay rent, which makes it a win for the investor. And it keeps property managers out of the middle of another difficult situation and decision.
Credit Building
With RBP's credit building service, on-time rental payments improve the credit score of your residents. It may seem crazy that people are building credit paying for Netflix and other small subscriptions, but not their largest monthly payment...rent! But that's the truth for most residents.
We asked, how is it even possible that someone's largest monthly expense is the only one they aren't getting credit or rewards for? This credit reporting program reports positive-impact, on-time rent payments automatically to all three credit bureaus, helping residents build their credit simply for paying their rent on time. Residents also get an immediate boost with 24 months of back reporting included.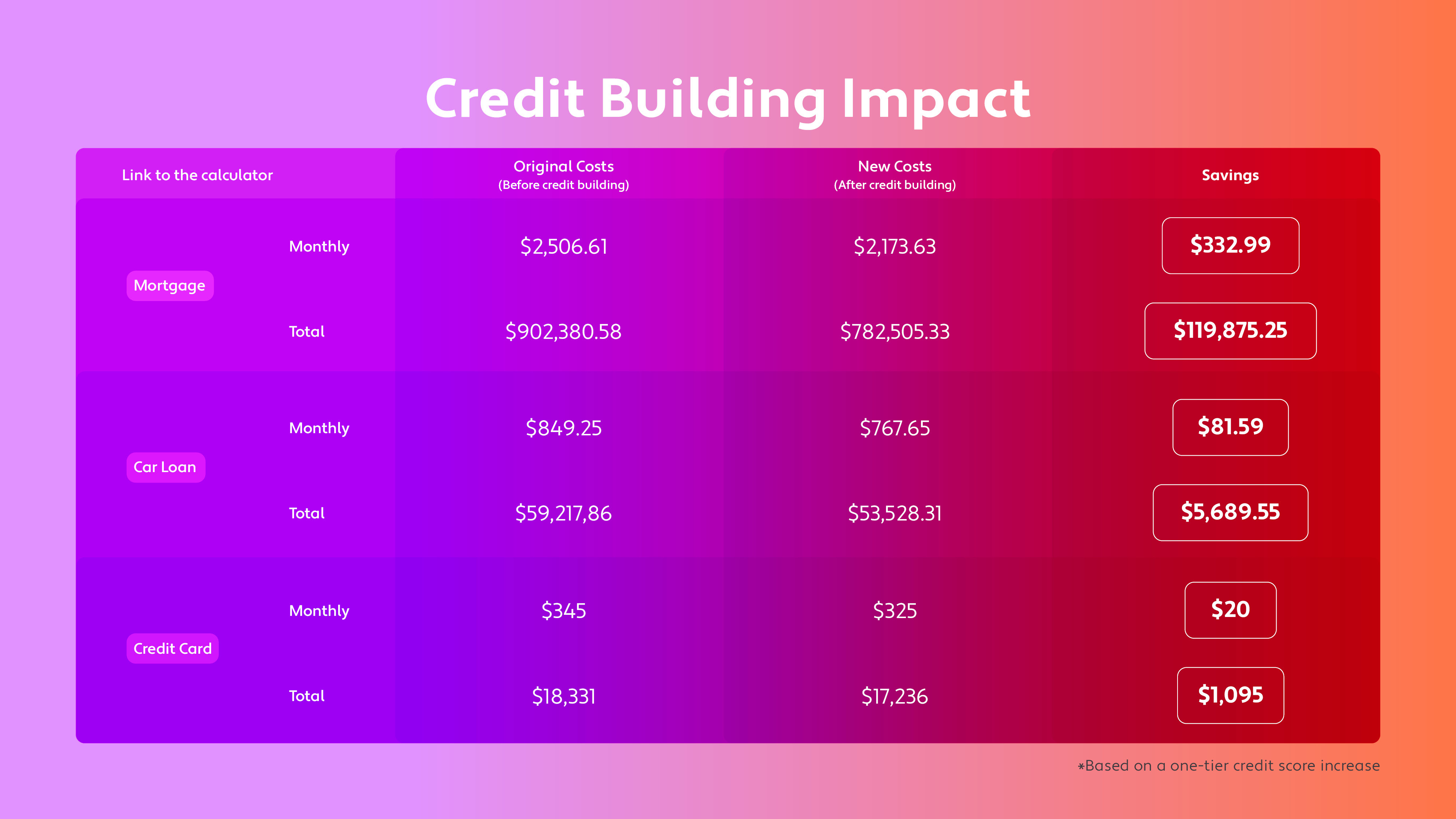 This service directly impacts rates on credit cards, auto loans, and future mortgages, incentivizing residents to get rent in on time and helping set them up for home buying in the future.
The property manager and the investor both reap the benefit of the extra incentive to get rent on time and the resident gets to see their credit score rise as a result of something they have to do anyway. It's a big-time triple win here.
Resident Rewards Program
Rental rewards are a favorite among residents and another powerful and positive incentive for on-time rent payments.
Rental rewards programs deliver automatic benefits at move-in. Then, residents can unlock even more rewards by paying rent on the day it's due. At Second Nature, all on-time payment tracking is done through the app. Like other services in your RBP, it's managed for you.
Gifts include:
$30 gift card for national and local brands
$25 restaurant card
$40 rewards cash on rent day each month rent is paid on time
And more
The value of rewards is covered in the cost of the RBP, so the property manager isn't seeing any additional liabilities. The PM and investor only see a benefit, which is the increase in on-time rent payments. For the resident, rent day is now rewards day. Another triple win.
Move-In Concierge
Setting up utilities can be a massive headache for a new resident. Residents aren't sure who to call and who provides utilities and home services like internet and TV for their new address. More, the research for discounts/promotions/coupons available takes more time. Most times, the process is clunky, with lots of friction that gets in the way of it getting 100% done. And it is too easy to overlook fine print in the lease about installing satellite dishes.
Move-in Concierge changes all of that for professional property managers. In one phone call, residents find out what their best options are and can even get help simplifying setup. An experienced concierge confidently guides multiple people every day to properly setup their utilities.
Renters Insurance Program
Nearly all property managers require a renters insurance policy in their lease agreements. As part of our RBP, Second Nature offers price-competitive insurance coverage options through a Renters Insurance Program that property managers can apply to all their residents locked in with one group rate.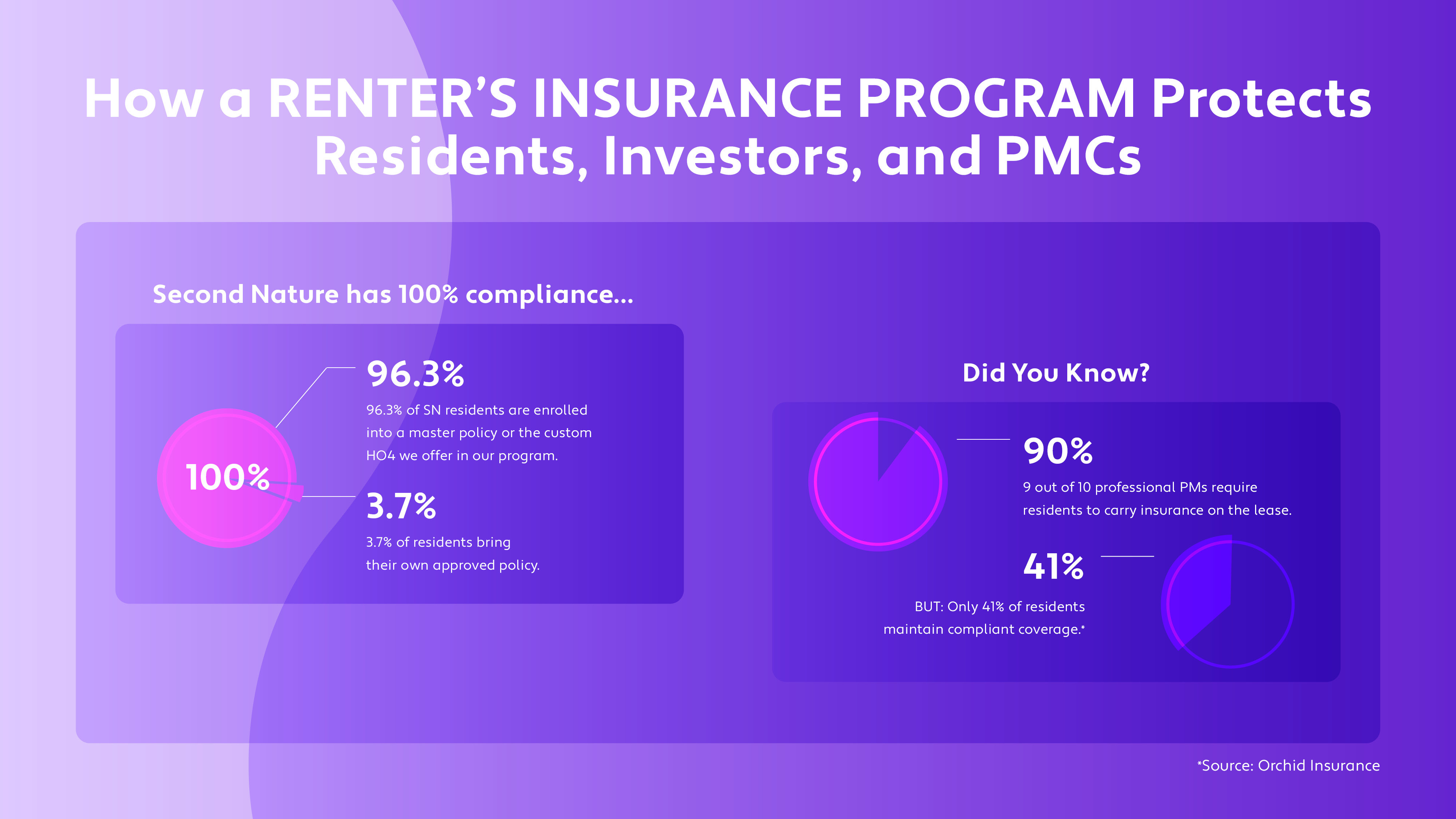 Residents who have their own renters insurance can receive a waiver on RBP's insurance program, but the current list of enrolled residents is tracked for you by Second Nature, and any resident who drops off of their own insurance is automatically enrolled.
No more hassle for you, quality asset coverage for the investor, and immediate and comprehensive liability coverage for the resident – another triple win you can create with your Resident Benefits Package.
Additional Benefits
At Second Nature, we help property managers deliver all their services to residents. If you're already offering perks and are ready to level up to a resident benefits package, we can help you bundle the above benefits with other services.
We've worked with PMs to bundle in their existing property management services, including:
24/7 Maintenance Coordination: A huge benefit to residents and PMs is a service that provides after-hours support without dragging the property manager out of bed. This type of program makes reporting pesky maintenance issues easy and fast for the resident. It also helps prioritize emergency maintenance.
Online Portal: With a simplified online resident portal, residents can access all of their documents, messages, and more through an app. Residents can also pay rent and receive reminders to pay rent online.
Home Buying Assistance: For residents who are building up toward home ownership, some PMs offer assistance in building credit and savings. We help them get there.
Vetted Vendor Network: A vetted network ensures that vendors who service your properties are screened to exceed your standards for insurance, licensing, and professionalism on the job. Property managers, residents, and investors can rest easy knowing that they have the best vendors working on their assets.
Washer/Dryer Rental: Some properties may have these appliances installed or the residents come with their own, but we've seen the impact on prospective applicants choosing homes due the convenience of having the washer/dryer available.
Security deposit alternatives: Security deposit alternatives come in different packages, but all serve to provide residents ways to be financially liable for damages without having to pay a significant lump sum up front. Pure insurance, surety bonds, and ACH authorization programs are all versions of deposit alternatives that seek to lower the barriers to rental, which in turn keeps days-on-market low and turnover costs down.
Pest control services: Property managers can partner with pest control companies to provide routine or on-demand pest control services to the homes they manage. Bugs are one of the most common complaints from renters, and having services available to prevent infestation issues is a big win for resident experience.
When implementing a full-service, fully managed resident benefits package, you don't have to lose the benefits you already offer. A great service can integrate all of these benefits together – delivering more impact to residents, investors, and property managers.
How much revenue can I create per unit with a Resident Benefits Package?
The amount of ROI on a resident benefits package will vary depending on the property class type, market, and number and type of services offered. Generally speaking, resident benefits packages are often in the $25-75/mo range for residents, but could be more or less. It depends primarily on the amount and type of products and services.
To go back to our concept of the experience economy: a resident benefits package gives residents the kind of incredible experience that they will pay and stay for. In short, keeping residents happy can reduce turnover and lead to lower costs and higher ROI for you and your investor.
According to Eric Wetherington, VP of Strategic Initiatives at PURE Property Management, "Revenue is all about providing a service. The younger generations we're dealing with in property management – they want convenience, they want experiences, and they want things to be simple, and they're willing to pay to have things taken care of for them."
A fully managed resident benefits package can generate revenue in two key ways:
Increasing services to improve resident retention
Decreasing costs by increasing efficiency
A resident benefits package can help to accomplish both. Routine filter delivery cuts down on HVAC and maintenance costs. A move-in concierge helps cut down time and cost as residents get settled in their new home. Credit building services keep residents invested in paying on time, sending online payments, and deliver incredible value.
The list goes on. A resident benefits program creates a huge win for you as a property manager, and your investor, by driving higher ROI over time.
How can property managers implement a Resident Benefits Package?
If a resident benefits package is new to your company, you may wonder how best to implement it. Should you roll out a mandatory resident benefit package – ensuring the maximum benefits for your investor – or allow residents to choose? What is legal or not?
We do recommend mandatory rollouts to create the most ease for you, your investor, and your residents. Having a choice may give residents a short-term positive experience, but in the long term won't be much of a benefit. Mandatory resident benefits packages tend to go much smoother and eventually have higher benefits for everyone involved.
According to Second Natures Head of Sales, Bob Hansen, "You have to look at the value that a resident benefits package brings to the investor and the resident, not just you as the property manager."
At Second Nature, we've seen incredibly low pushback from residents when an RBP was introduced. After all, it benefits residents, and most are delighted to have the extra service.
Kyle Hendricks is the Vice President of Hendricks Property Management in San Antonio, Texas. He had great success rolling out Second Nature's Resident Benefits Package and has some advice for other PMs. He emphasizes open communication and transparency to ease the path to a successful rollout.
"Be ultra transparent and get it done in the beginning, just saying, we're not hiding anything," Hendricks says. "And if people did call in with questions, we were happy to answer them and talk to them about it. I think just making sure we had that transparency up front was crucial."
Looking for more in-depth advice on how to roll out a resident benefit program with your property management company? Click here for the full interview with Bob.
How can property managers reduce costs with a resident benefits package?
The answer is: in several ways!
Implementing a comprehensive residential benefits package can provide property managers with opportunities to reduce costs and increase operational efficiency.
Let's look at examples from the product above.
By including air filter delivery as part of the package, property managers can ensure that residents have regular access to clean air filters, reducing the need for costly maintenance and repairs caused by poor air quality.
Offering identity protection and credit building services can help mitigate the financial risks associated with identity theft and delinquent payments, potentially reducing costs related to collections and legal procedures. They also improve retention and encourage on-time payments.
Including a resident rewards program can also incentivize desirable behaviors such as timely rent payments or positive referrals, fostering resident satisfaction and reducing turnover costs.
By partnering with a renter's insurance program, property managers can transfer potential liability and property damage expenses to the insurance provider, minimizing their own financial risks.
A move-in concierge service can streamline the onboarding process for new residents, reducing administrative costs and improving operational efficiency.
By providing these benefits, property managers can enhance resident satisfaction and retention, ultimately reducing expenses associated with turnover, repairs, and legal issues.
Common Mistakes Property Managers Make Implementing Resident Benefits Package
In our experience helping property managers implement RBPs, we've heard our share of concerns or even horror stories from PMs who had bad implementations with other products. Here are some of the most common mistakes in RBP implementations – and how to avoid them!
Overpromising and underdelivering
Property managers may advertise extravagant benefits that they cannot consistently provide or fulfill, leading to disappointment and resident or investor dissatisfaction. Property managers should accurately represent the benefits package, ensuring that the offered perks are realistically achievable and consistently provided to residents.
Lack of communication
Failing to effectively communicate the details and availability of the benefits package to residents can result in confusion and missed opportunities for using the offered perks. Property managers should effectively communicate the details, availability, and utilization process of the benefits package to residents through multiple channels, such as newsletters and online platforms.
Inadequate research and selection
Property managers may choose benefits that do not align with the residents' preferences or needs, leading to a lack of interest and underutilization of the package. Property managers should conduct thorough market research and engage with residents to understand their preferences and needs, ensuring that the benefits selected align with their expectations.
Failure to evaluate cost-effectiveness
Neglecting to assess the costs and benefits of the package can result in offering benefits that are financially unsustainable or fail to provide a satisfactory return on investment. Property managers should regularly assess the costs and benefits of the package, considering factors such as resident utilization, return on investment, and overall financial sustainability to make informed adjustments as needed.
Lack of flexibility and adaptability
Not regularly reviewing and updating the benefits package based on resident feedback and changing market trends can make it less competitive and less appealing over time. Property managers should actively seek resident feedback, monitor market trends, and periodically review and update the benefits package to ensure it remains competitive and relevant to residents' changing needs.
Insufficient staff training
Failing to train property management staff on the benefits package and its administration can lead to ineffective communication, missed opportunities, and difficulty addressing resident inquiries or issues. Property managers should provide comprehensive training to their staff on the benefits package, including its features, administration processes, and effective communication strategies, enabling them to effectively support and engage with residents.
Neglecting legal and regulatory considerations
Property managers must ensure that the benefits package complies with all relevant laws and regulations, such as data protection requirements or fair housing laws, to avoid legal repercussions. Property managers should consult legal experts or advisors to ensure that the benefits package complies with all applicable laws and regulations, protecting both the company and residents.
Ineffective marketing and promotion
Inadequate marketing efforts to promote the benefits package can result in low resident awareness and limited participation, reducing the overall effectiveness of the package. Property managers should develop a strategic marketing plan that utilizes various channels to promote the benefits package, highlighting its value proposition and actively engaging residents in participating and utilizing the offered perks.
Ignoring resident feedback
Neglecting to seek and incorporate resident feedback can hinder the improvement and optimization of the benefits package, missing opportunities for enhancing resident satisfaction and retention. Property managers should establish channels for residents to provide feedback on the benefits package, actively listen to their suggestions and concerns, and make necessary adjustments to enhance resident satisfaction.
Lack of coordination with vendors
Failing to establish clear communication and expectations with vendors offering benefits can lead to subpar service delivery, difficulty resolving issues, or missed opportunities for cost savings. Property managers should establish clear expectations, contracts, and regular communication channels with vendors offering benefits, ensuring a seamless and satisfactory service delivery process for residents and promptly resolving any issues that may arise.
This is A LOT to keep in mind, and avoiding these mistakes might feel like it will cost too much or simply take too much work. But that's why opting for a fully managed RBP is a solution so many PMCs are turning to. You can rely on a partner to manage all aspects of your RBP, and ensure its delivering on its promises to your residents. More on that in the next section.
How 1,000+ property managers are creating Triple Wins with a resident benefits package
Rolling out a resident benefits package is a powerful way for property managers to create a Triple Win – for residents, investors, and themselves.
An RBP like Second Nature's is designed to be simple to use and easy to implement. All the services included within it are managed externally by Second Nature, meaning there is no day-do-day upkeep required from the manager. You plug it in and Second Nature keeps it running. The value creation an RBP generates – with such little work required from the PM – is an incredibly easy way to grow your business and create great experiences that residents will pay and stay for.
Don't get left behind in the evolving world of resident experience. Learn more about our fully-managed Resident Benefits Package and how we can build ease for you, your investors, and your residents.